Ryan Stoker and I visited the State Library of New South Wales (NSW) on 2 June 2011 for a guided tour of the exhibition Carved Trees: Aboriginal cultures of western NSW.
ATSIDA Reference Group member and exhibition co-curator, Ronald Briggs, introduced us to the exhibition that includes images from the Clifton Cappie Towle collection documenting carved trees from Gamilaroi and Wiradjuri Country in western NSW. The carved trees were cultural markers for Aboriginal people in western NSW.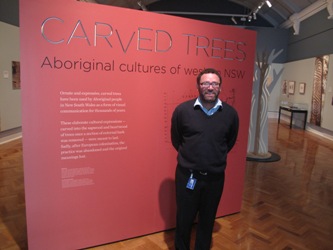 Ronald Briggs, Indigenous Services Librarian, State Library of NSW.
The exhibition also includes depictions of carved trees in other printed sources held in the State Library of NSW, the earliest being a drawing by GE Evans published in the diaries of the explorer, John Oxley, after visiting a grave site in Condobolin NSW in 1817.
The exhibition explores the contemporary significance of the carved trees and the designs for Aboriginal communities in NSW. The return of the trees is important both for the return of Aboriginal artefacts from Museums to community keeping places and rejuvenating and inspiring artistic works.
The exhibition will be staged at the State Library until 26 June 2011. For more details visit the State Library web site.