Our Digital Preservation Officer, Elizabeth Mulhollann, is currently in Canada to represent ATSIDA at two international conferences.
The first, the annual conference of the International Association for Social Science Information Services and Technology (IASSIST) was held in Vancouver BC last week. IASSIST is an international organisation of professionals working in and with information technology and data services to support research and teaching in the social sciences. Elizabeth presented with ASSDA colleagues, speaking about our approach to respectful engagement with Indigenous communities and researchers, and the advantages of the collaborative model provided by ASSDA. She also presented a separate paper on UTS:Library's work to support UTS researchers with their data management planning.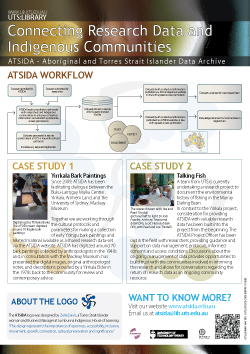 From 13 June, she will be in Ottawa ON, presenting a poster titled, 'Connecting Research Data and Indigenous Australian Communities' at the Joint Conference on Digital Libraries (JCDL).  JCDL is a major international forum focusing on digital libraries and associated technical, practical, organisational, and social issues, and ATSIDA is very excited to have the opportunity to present to this community.
Elizabeth will prepare a report on her travels when she returns, so stay tuned!